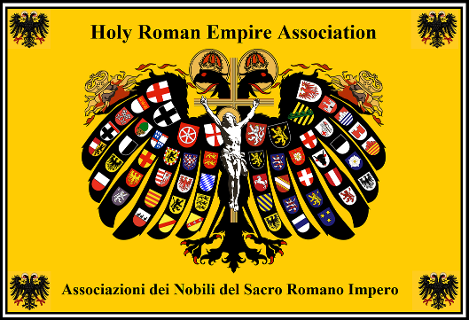 The Official Banner of the Holy Roman Empire Association
Members of the Governing Council and Board

The Chancellor (in succession to Prince Alliata) is Prince Mario Pignatelli Aragona Cortes; the President of the Court of Honor is Count Giancarlo Bonifazi di Statte; the Co-ordinators of the Council are Prince Domenico Napoleone Orsini and don Carlo dei Principi Giovanelli; the members of the Historical Council are: Marchese Henri de Thoran, Marchese Cosimo Dragonetti di Torres, Prof Riccardo Capasso, Monsingor Antonio Bittarelli, Monsignor Sandro Corradini; Avv. Giuseppe de Rosa. Members (titles not in parentheses are the Holy Roman Empire titles of the Family): Count Clemente Alberti di Poja, Marquess (Prince) don Camillo Aldobrandini; Princes don Francesco and don Gabriele Alliata di Villafranca; Prince don Giovanni Francesco and Fabrizio Alliata di Montereale; Nobile (Count) Carlo Antonielli; Prince don Alessandro d'Aquino; Count Federico Attems; Prince don Francesco Avalos; Nobile Luciano Aventi; Nobile Giangiorgio Barbasetti; Count Guido Barbiano di Belgioioso; Count Ferrante Benvenuti; Nobile Luigi Bertolini; Nobile Lanfranco Blanchetti Revelli; Dama Bona (Marchesa) Bonacossi; Prince don Gregorio Boncompagni-Ludovisi; Count Giancarlo Bonifazi di Statte; Conte Federico Bossi Fedrigotti; Nobile Marc'Antonio Bragadin; Barone Guido Buffa; Count Neri Capponi; Prince Marcello Caracciolo.
Noble Families of the Holy Roman Empire
Cestina: Slechticke rody Svate rire rimske. Deutsch: Die Adelsgeschlechter des Heiligen Romischen Reiches. English: The noble families of the Holy Roman Empire. Espanol: Las familias nobles del Sacro Imperio Romano Germanico. Francais: Les familles nobles du Saint-Empire romain germanique. Hrvatski: Plemicke obitelji Svetog Rimskog Carstva. Italiano: Le famiglie nobili del Sacro Romano Impero. Latina: Familiae nobiles Imperii Romani Sacri. Magyar: A Nemet-romai Birodalom nemesi csaladok. Nederlands: De adellijke geslachten van het Heilige Roomse Rijk. Polski: Rody szlacheckie Swietego Cesarstwa Rzymskiego. Portugues: As familias nobres do Sacro Imperio Romano-Germanico. Slovencina: Slachticke rody rimsko-nemeckej rise.
+