Imperial Chamber Court of the HRE

The Imperial Chamber Court of the Holy Roman Empire - Reichskammergericht - Iudicium imperii was one of the two highest judicial institutions in the Holy Roman Empire, the other one being the Aulic Council in Vienna. It was founded in 1495 by the Imperial Diet in Worms. All legal proceedings in the Holy Roman Empire could be brought to the Imperial Chamber Court, except if the ruler of the territory had a so-called privilegium de non appellando, in which case the highest judicial institution was found by the ruler of that territory. Another exception was criminal law in which the Imperial Chamber Court could intervene only if basic procedural rules had been violated.
The court's composition was determined by both the Holy Roman Emperor and the subject states of the Empire. The Emperor appointed the chief justice (always a highborn aristocrat), several divisional chief judges, and some of the other puisne judges. The majority of the judges were selected by the estates of the realm. Originally, half of the judges were Knights of the Empire, and the other half were law graduates, but after 1548, all judges had to be law graduates.
The Imperial Chamber Court was infamous for the long time that it took to reach a verdict. Some proceedings, especially in lawsuits between different states of the Empire, took several hundred years. Some of the lawsuits had not been brought to an end at the time of the start of the Interregnum of 1806. However, it has late been discovered that it could often be attributed to a loss of interest on the part of the parties involved, and that the court was sometimes much more efficient than previously thought. Sometimes, the court even ordered injunctions within a few days.
Recent research has also brought to light that especially in the 18th century, the rulings of the court anticipated in many ways the constitutional establishment of civil liberties in Germany. For instance, the inviolability of one's housing or freedom of trade was legally introduced in the Empire by rulings of the court. In the late 18th century, some contemporaries even compared the Imperial Chamber Court to the National Assembly in Revolutionary France. The present seat of the Imperial Chamber Court of the HRE is in Rome and London at the Imperial Embassy of the Holy Roman Empire Association.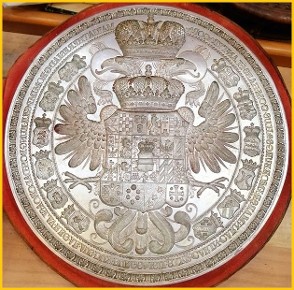 Resumption of the Reichskammergericht - 2023
The Holy Roman Empire Association - Associazioni dei Nobili del Sacro Romano Impero - HREA - The Chancellor of the HREA as President of the Aulic Council of the HRE, has declared the resumption of the Reichskammergericht - Imperial Chamber Court of the Holy Roman Empire - Iudicium imperii in the presence of the Officers of the HREA in their Offices of Vice-President and Vice-Chancellor of the Aulic Council, and the 18 Councillors of the Empire, in a meeting held on the 17th May In the Year of Our Lord Two Thousand and Twenty Three, in the Imperial Eternal City of Rome. The Imperial Chamber Court of the Holy Roman Empire will be composed of a Chief Justice, several divisional Chief Judges, and Puisne Judges, all judges wil have to be law graduates. Whereas the President of the Aulic Council of the HRE, will temporarily hold the Office of Chief Justice of the HRE, until a suitable candidate has been chosen by the Aulic Council, being signed and dated under the Imperial Seal of the Holy Roman Empire. "Christus vincit! Christus regnat! Christus imperat!" – "Christ conquers, Christ reigns, Christ commands"
Contact: Imperial Chamber Court of the HRE: contact@holyromanempireassociation.org
+